KALWAVE™ Water Disinfection
KALWAVE™ is an advanced water disinfection system which uses a unique combination of Ultraviolet light and Ultrasound for the disinfection of water. Unlike conventional UV systems, KALWAVE™ successfully inactivates particle-associated micro organisms.
ultraviolet
 

short wavelength (253.7 nm)
+
ultrasound

 

and hydrodynamic cavitation ….
in a single unit!
For all sizes: Working Pressure up to 10 bar and
UV Dose no less than 40 mJ/cm²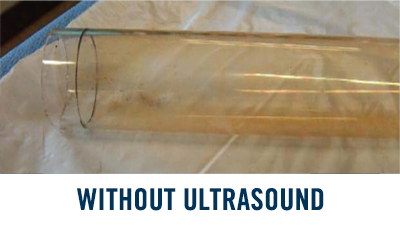 Features & Benefits
Combined UV and ultrasound ensures reliable disinfection for waters, even with low UV transmittance and high concentrations of Total Suspended Solids (TSS) and Total dissolved Solids (TDS). The synergetic action of UV light and Ultrasound produces:
Bactericidal effect equivalent to a UV dose of 75-150 mJ/cm²
Up to 99.9999% efficiency in inactivation and elimination of pathogens in water
No accumulation of biological or chemical residue on the Quartz sleeves providing continuous optimal UV transmittance, ensuring reliable disinfection.
No mechanical or chemical cleaning required eliminating risk of UV lamp damage and mercury leaching into the treated water.
High equivalent dose reduces the risk of microorganism reactivation, during water storage after treatment
Synergistic action of UV and ultrasound produces high equivalent UV dose of up to 70 mJ/cm2 resulting in smaller system size and lower power consumption than equivalent conventional UV system. Low energy consumption: 0.008 kWh per 1m³ for drinking water 0.02 kWh per 1m³ for treated industrial or sewage effluent Inactivation of pathogens with shorter exposure times and lower energy consumption: 5 seconds of combined UV and Ultrasound are equivalent to 30 seconds of UV.