Wastewater Pumping Systems
Packaged S&L pumping systems feature robust, high efficiency S&L Non-Clog Pumps that handle problems like "flushables" in wastewater for utilities, developments and industry world-wide.
Save 50% vs Submersibles
A 12-Year Study documents more than 50% savings on O&M costs by using S&L surface mounted pump stations vs. submersibles.
The TOTEX Solution for sewage and storm water pumping
75 years after B. Alden Smith and Compere Loveless manufactured the first off-site-built packaged wastewater pump station, S&L Ltd. pumping systems feature robust, high efficiency S&L Non-Clog Pumps that handle modern "flushable" laden wastewater for water companies, developments and industry around the world. Our complete line of off-site-built and tested pumps and systems include surface-mounted and underground wastewater lift stations, vacuum primed centrifugal pumps, flooded suction centrifugal pumps, immersible pumps, trash handling pump impellers, and multiple pump control systems. Smith & Loveless Ltd. offers standard and bespoke system designs, tailored to meet customer demands for performance and delivery time. See the complete line of S&L Pumping Systems.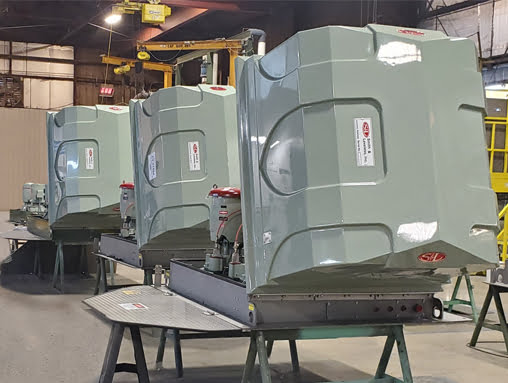 Fight flushables & clogs with X-PELLER®
The X-PELLER® effectively expels high volumes of stringy materials, rags and other unusual trashy items due to its mono-port design. In these highly problematic installations, after the X-PELLER® was installed, clogging problems were virtually eliminated. The X-PELLER® was specifically designed for high volumes of trash pumping applications and low flow conditions in 75-800 GPM, 75-1,000 GPM and 300-1,700 GPM vacuum primed and flooded suction Smith & Loveless pumps. Learn more about X-PELLER®.
UK hospital reduces maintenance efforts & clogs with S&L Surface Mounted Pump Station
Tough-to-access submersible pumps complicated life and increased costs for maintenance workers at a Hospital in Truro, UK.
While the hospital used to experience frequent pump clog events, S&L's mono-port X-PELLER® Non-Clog Pump Impeller has eliminated pump clogs during its first year of service.
Hospital staff inspect their EVERLAST™ Surface Mounted Pump Station daily and easily conduct routine maintenance tasks. Since the switch form submersibles, contractor costs have been eliminated by the hospital.
"I would 100 percent recommend this product," said Dey. "You can take back ownership for your group without relying on contractors to come in," said Leslie Dey, Estates Officer for the hospital.
Call For a Quote:
+44 (0)7887 656757
Non-Clog | Operator Safe | Save 50% vs Submersibles